Project information
PROJECT TITTLE: HUB-IN – Hubs of Innovation and Entrepreneurship for the Transformation of Historic Urban Areas

ACRONYM: HUB-IN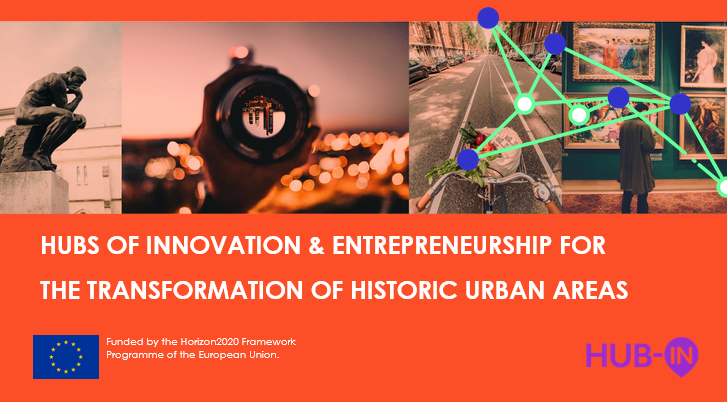 HUB-IN is a project funded by the Horizon 2020 program of the European Commission. Its aim is to promote the urban transformation and regeneration of historic urban areas (HUA) using as main catalyst the innovation and entrepreneurship, while preserving their unique identity social and cultural identity and the environment.
HUB-IN is expected to contribute to reversal of trends of abandonment and neglect of historic heritage in a systemic way through innovation and the creation of networks of Hubs (local innovation ecosystem networks). HUB-IN will also have a direct impact on the creation of new sustainable opportunities for local traditional businesses and for the development of new creative skills and jobs.

What are Hubs?
Hubs are centres of experimentation in urban innovation and creativity in historic European areas. They are part of the innovation and sustainability ecosystem of the cities, responding to the critical societal challenges, establishing the bridge between Science – Technology and Art – Culture.
The project will be implemented in 8 pilot cities. The emphasis of the project is on co-creation and collaboration among different actors in each HUA and between partner cities.

HUB-IN has 3 main stages:
In the first stage, cross-fertilized and connected Hubs of innovation and entrepreneurship will be developed in each of the eight European cities with different characteristics in terms of their local urban regeneration agendas (tailored roadmaps), their socio-economic characteristics and dynamics of their innovation and entrepreneurship ecosystems. At the city level, each of the 8 Historic Urban Area comprises its own ecosystem and local network: fab labs, innovation centres, universities, cultural centres, local associations, start-ups, citizens, and local communities etc.
In the second stage, we will create a network between the eight HUAs to build an ecosystem of innovation and entrepreneurship across the eight cities, where for example a local fab lab from one HUA could share knowledge and innovation with another fab lab or innovation centre from another HUA.
In the third stage, we will extend the collaborative network of Historic Urban Areas. The resulting methods and tools will be upscaled to a network of at least 20-50 follower cities.
in a structured way through:
HUB-IN Digital Space a web-tool gathering all the main resources of the project and hosting each of the eight Hubs. It will be a platform for collaboration and innovation ecosystem intra and inter cities. It will include dedicated sections for cities, companies, solutions, methodologies, and replication-enabling tools, as well as state-of-the-art matchmaking features for cities, businesses, and the HUB-In Academy.
The HUB-IN Academy, a broad educational program focused on learning through peer-to-peer networking (mentoring and shadowing), including learning and mentorship sessions, training seminars (webinars, master classes, conferences, video tutorials and infographics, podcasts etc.).
The HUB-IN Toolkit for cities to foster innovation in their Historic Areas.
The HUB-IN Alliance, a network of historic urban areas, and a place for sharing views and experiences in delivering sustainable hubs of innovation and entrepreneurship. The network will take advantage of being a global community and, simultaneously, of being local to explore, in a sustainable way, the different local contexts, the authenticity, the culture and heritage of each HUA.


Partners: