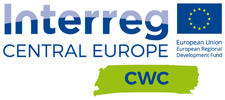 Project information
CITY WATER CIRCLES
PROJECT TITTLE: City Water Circles -Urban Cooperation Models for enhancing water efficiency and reuse in Central European functional urban areas with an integrated circular economy approach
ACRONYM: CWC
Lead partner: City of Budapest, District 14 Zugló Municipality
Project partners:
PP2: Budapest Sewage Works Plt. Ltd.
PP3: Turin Municipality
PP4: Poliedra
PP5: Maribor Water Supply Company
PP6: E-Institute
PP7: City of Bydgoszcz
PP8: Institute for Sustainable Development Foundation
PP9: Public Institution RERA SD for Coordination and development of Split-Dalmatia County
PP10: Split water and sewerage company Ltd
PP11: Association for Rainwater Harvesting and Water Utilisation

Project value: 2.418.392,29 €

Project is supported by the INTERREG Central Europe Programme of the European Regional Development Fund (ERDF). Total co-financing amounts:2.017.978,82 €

Project duration: 01.04.2019- 31.03.2022

Recognizing that cities are focal points of increasing freshwater consumption in CE, CWC strives for introducing and promoting water efficiency measures and the (re)use of non-conventional local water resources like rainwater & greywater for public and domestic purposes in CE functional urban areas (FUAs). With bringing these regions on the path of circular urban water management, the project aims to enhance water conservation through alleviating pressure on over-exploited freshwater resources as well as on urban drainage systems, and thus to improve environmental quality and climate resilience of CE FUAs.
Aiming at cities becoming main drivers of circular water use revolution, CWC intends to equip the local and regional public actors, as well as relevant stakeholders with improved capacities for facilitating/ launching the implementation of sustainable water efficiency and reuse systems by creating supportive regulatory, organizational and co-operational frameworks.
The project's strong emphasis is on integrating water saving and recycling considerations not only in existing environmental policies and management systems of FUAs, but also channeling them into all relevant urban/ regional development strategies and sectoral (e.g. urban planning, building) regulations as a crosscutting issue
Project co-financed by the European Regional Development Fund.