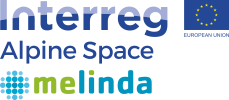 Project information
PROJECT TITTLE: Mobility Ecosystem for Low-carbon and INnovative moDal shift in the Alps
ACRONYM: MELINDA
MELINDA is supported by the INTERREG Alpine Space Programme of the European Regional Development Fund (ERDF). Total co-financing amounts: 1.558.521,75 €
Lead partner: Insiel S.p.A.
Project partners:
PP2: e-Institute, institute for comprehensive development solutions
PP3: Municipality of Maribor
PP4: University of Maribor
PP5: B.A.U.M. Consult GmbH München
PP6: Auvergne Rhône-Alpes Energy Environment Agency
PP7: Lucerne University of Applied Sciences and Arts
PP8: Vorarlberg University of Applied Sciences
PP9: University of Milano-Bicocca
PP10: AustriaTech Ltd. – Federal Agency for Technological Measures
PP11: Inter-municipalitiesTerritorial Union
PP12: City of Leutkirch
Project value: 1.833.555,00 €
ERDF: 1.558.521,75 €
Project duration: 17.04.2018 – 16.04.2021

Partnership of MELINDA project is generating innovative solutions for climate friendly mobility of citizens in Alpine Space through user-participation process. The aim is to induce behavioral change and improved policy instruments which will be achieved through:
Better understanding of user demands in mobility through crowdsourcing
Participative development of ICT tool for low-carbon citizen mobility
Generating innovative business models for mobility service providers by involving end-users.
Main result is the implementation of a new model to boost the low carbon mobility behaviours, through the analysis of the factors that impact on the demand and the offer of mobility, using a trans-sectorial and social innovation approach. MELINDA will increase the low carbon mobility options and encourage modal shift, thanks to the availability of new evidences and awareness on both demand and offer side as input for an effective activity of the policy makers and sustainable low carbon behaviours.