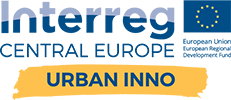 Project information
PROJECT TITLE: "Utilizing innovation potential of urban ecosystems"
Project duration: 36 months (01.06.2016. – 31.05.2019)
URBAN INNO addresses the challenge of making central Europe more innovative and competitive by maximising the innovation potential of smaller and medium sized urban ecosystems. A significantly better linkage of actors within urban innovation ecosystems (public authorities, research organizations, industry as well as end-users respectively customers and citizens) is needed for a better use of innovation potentials. Public and private sectors recognise that there is especially a significant gap in the field of participation in innovation processes from people as citizens and as users and customers. Many smart solutions, technologies and services are not used widely because of the lack of knowledge and motivation or acceptance of end-users.
URBAN INNO focuses on maximising innovation potentials of urban ecosystems through:
Better linking actors in innovation systems by establishing and interlinking quadruple helix clusters and networks in the partner regions; and
Developing and implementing new participatory methods and tools to engage end-users in innovation processes with the objective to have educated and motivated users.
URBAN INNO will be implemented in small-medium sized urban ecosystems in central Europe with strong replication potential due to the big number of similar-sized cities in the EU. Quadruple-helix networks will be established and regional/urban innovation action plans developed (setup of demo centres and testbeds for industry). In parallel, new participatory methods and tools will be developed and tested in pilot projects. Participative urban environments will substantially improve their innovation performance with the established innovation environment. A transnational cooperation strategy and platform will provide all interested regions the best available participatory tools and qualified facilitators and best practice will enable transfer and exchange of urban innovation models and practices throughout central Europe.
PROJECT PARTNERS:
CyberForume.V., Germany (Lead partner)
Inno AG, Germany
E-Institute, Institute for comprehensive development solutions, Slovenia
Municipality of Maribor, Slovenia
Technical University of Kosice, Slovakia
Municipality of Kielce/ Kielce Technology Park, Poland
City of Rijeka, Croatia
Ericsson Nikola Tesla d.d., Croatia
Pannon Business Network Association, Hungary
Research Buurgenland GmbH, Austria
Vorarlberg University of Applied Science, Austria
InformaticaTrentina Spa, Italy

ASSOCIATED PARTNERS:
Economic Development Department Karlsruhe, Germany
Vas County Authority, Hungary
City of Pinkafeld, Austria
City of Hartberg, Austria
Košice Self-governing Region, Slovakia
Project co-financed by the European Regional Development Fund.